Fields of Remembrance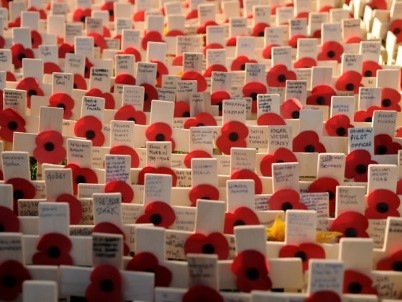 In November 1928, The Poppy Factory took a group of disabled veterans, a tray of poppies and a collecting tin to the grounds of St Margaret's Church in the grounds of Westminster Abbey. It was not a large display, only a handful of poppies were planted around a single cross but it caught the public attention and began a tradition that has grown over the decades.
Over 90 years later, the Legion organises Fields of Remembrance in six locations where volunteers plant more than 120,000 tributes in fields across the UK.
But, we thought why journey all the way to Cardiff or Swindon, especially after the British Legion posted to most every house locally a remembrance poppy cross. Why don't we invite everyone who received a cross to put the names of someone they know who has served this country in the armed forces and bring them to the memorials in Limington, Ilchester or Podimore churchyards and do just what was done at Westminster Abbey in 1928. Let's be a people honour 'the long and the short and the tall', those who marched, sailed and flew away and those who came home and let's have our own Fields of remembrance in 2019!
PARISH REMEMBRANCE SERVICES 2019                                                                                                               This year sees the commemoration of both D-Day and the establishment of NATO.
A full uniformed parade will take place in Ilchester. The parade begins at 10am from the bottom of West Street, followed by a service in church and Act of Remembrance at the War Memorial from 10.45.
In Limington and Podimore the services begin with the Act of Remembrance at the War memorials from 10.45am